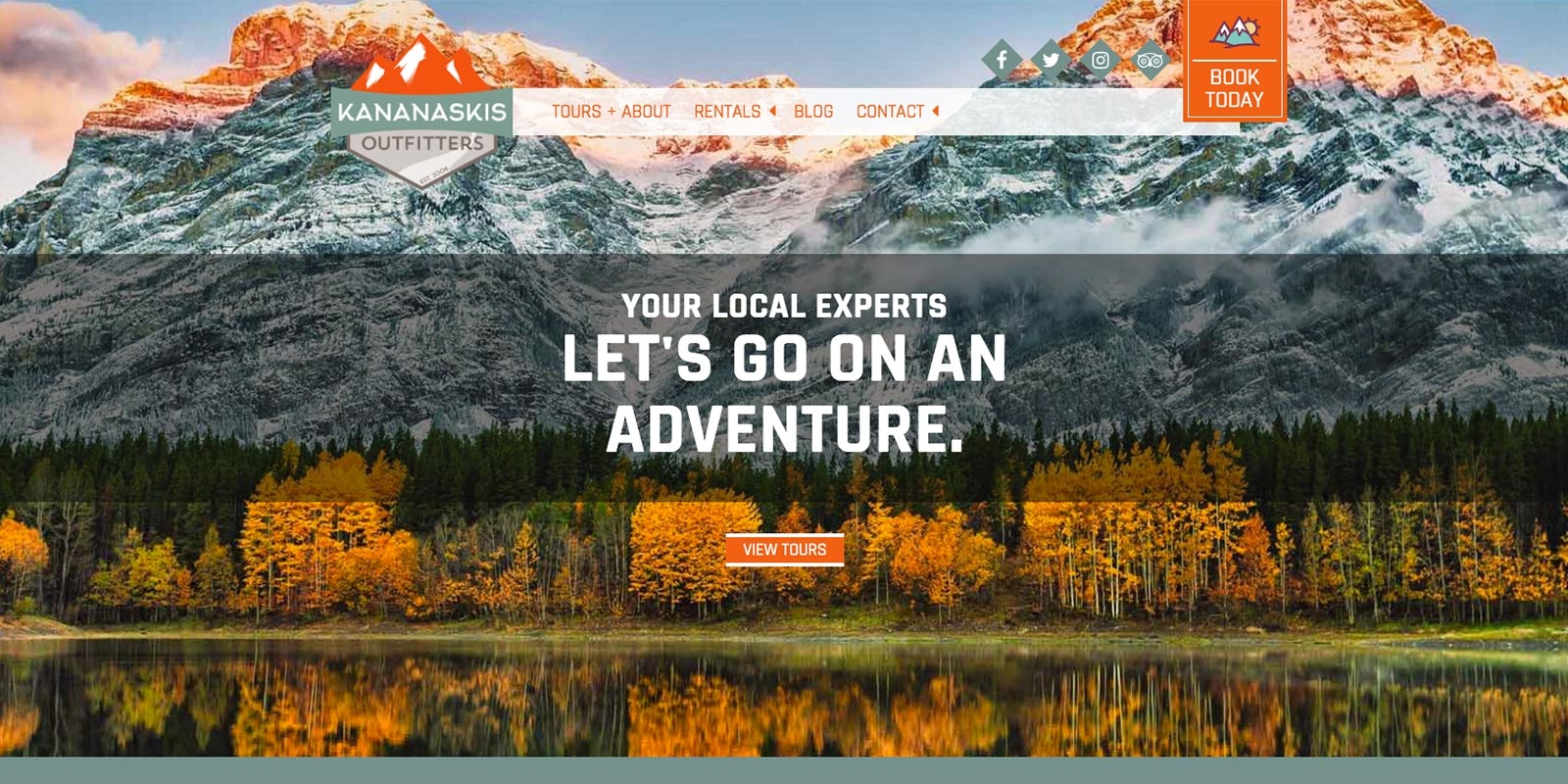 Kananaskis Outfitters - Website - Branding + Logos
Logo Design, Brand Identity, Brand Development & Guidelines, Website Design/Development
Kananaskis Outfitters is an adventure tour and rental company in the majestic Canadian Rockies. Their website needed to reflect the awesome activities they offer, their expertise in the industry and the stunning natural environment that surrounds them.
This website was designed with striking visual elements and rich colours that mirror those seen in the Canadian Rockies. The many images on the site showcase the countless outdoor activities people can enjoy in the Kananaskis Country wilderness.
The content on this website has an experiential focus and allows the audience to imagine themselves on a tour with Kananaskis Outfitters, as well as introduces the guides who lead the tours. It was important to include a personal element that communicated the team's enthusiasm for the outdoors, and their authentic lifestyle.
The tours are spectacular and Kananaskis Outfitters is looking to increase their numbers in this area, so featuring the tours prominently is a great way to get people excited. Who wouldn't want to go on a stargazing tour with a fire and fondue at the end, or a guided mountain bike tour of the area with experts? Information on rentals needed to be easy to digest too, so a clean presentation was used, while still incorporating images to continue to bring the experience to life.
The blog section is fun and has a lot of personality. Blogs are written by the team, and provide insider knowledge on activities in Kananaskis Country.
Before we could start this website project to celebrate Kananaskis Outfitters' 10-year anniversary, they also wanted a new logo and brand to match the website and showcase how much they have grown over the past 10 years.
The logo needed to feel like it had been on many adventures, which it has, and feel like it could be on any backpack across the globe. It incorporated straightforward elements that clearly show all Kananaskis Outfitters has to offer, that will look great both on a business card and a weathered t-shirt. The similar colour scheme means people still feel familiar with the brand but with a new kick to match the website.
Client Testimonial: "We loved working with Switchback Creative. The design process was easier to start than we expected and throughout the process the team kept us on track with deadlines and check-ins. Our new website is easy to update and simple to use thanks to a custom WordPress page build. The end result was a great, intuitive website design that converts occasional viewers of our website into buyers of our products. The website is fully search engine optimized (SEO) on all of the big search engines and maps. We have been using analytics to track the results and the new site is doing amazingly on the bounce rate and page view time accounts." – Claude and Michelle