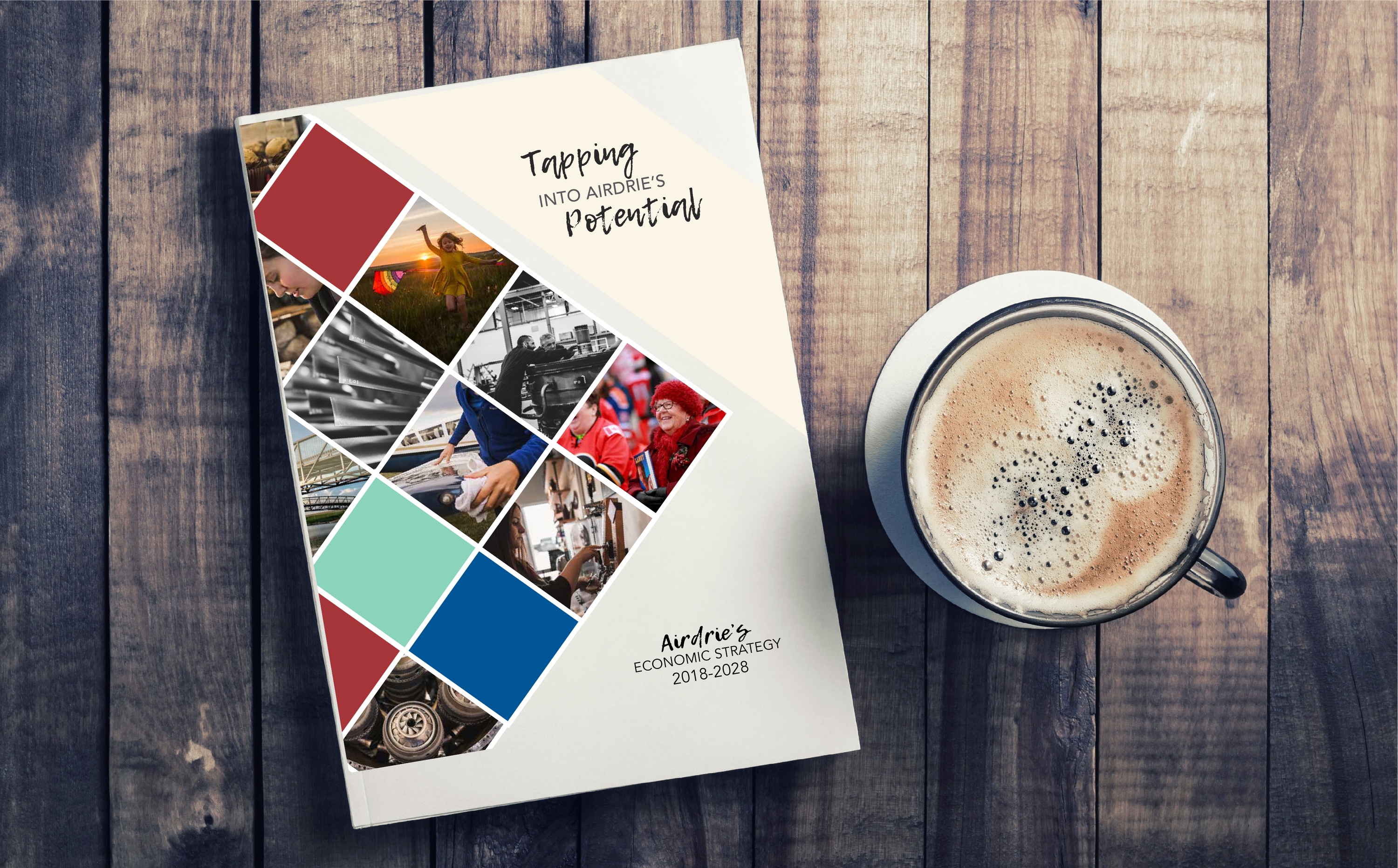 Airdrie Economic Development - Branding + Logos
Brand Development, Brand Identity & Guidelines, Advertising, Promotional Materials, Marketing Messaging
Placemaking* is a concept that has greatly interested us for a long time. We have talked about it in past blog posts and jumped on board with a number of projects that have had that concept top of mind. People like Dr. Katherine Loflin, The City Doctor and Doug Griffiths, of 13 Ways have inspired us to think bigger than what we can imagine now for our city or country. Things will always evolve; helping your community get one step ahead and explain these concepts through great design and marketing is at the core of what we do.
Storytelling is about making big ideas, or even complicated government based information like Economic Development concepts, approachable, and even loveable. Positioning a city for growth based on two years of study, research and educated information, is an honour we take seriously.
Sometimes a project comes along that pushes your boundaries even in areas you are very comfortable in. Clear design, concise messaging and vibrant graphics all come together in these Airdrie Economic Development pieces.
We were tasked with the creative direction, writing, design and concept development for this project. Tapping into Airdrie's Potential is where it all landed with their key pillars of: The Place to Be, Right for Business, and a Connected Community breaking down the strategy in to bite sized pieces.
We were responsible for helping to create a concise strategy document that people would enjoy reading and be able to easily digest. This was then followed up with a one page document summarizing the plan, social media and launch materials.
A video series capturing the essence of the project was also created. We helped with the creative direction, script writing and feel of the videos. All of the photography and videos were created by Spruce and Sparrow photography for this project, really bringing it to life with her use of natural lighting and warm feels.
In the end, we are super proud of how this all came together and we fully embraced the implication of what it could be for our city and community. Making Airdrie the Place to Be is the thing dreams and goals are made of.
Learn more about the full strategy here.
Exciting update as of April 4 Airdrie's Economic Development team just won the Economic Development Association (EDA) 2019 Award of Excellence for Airdrie's Economic Strategy. Congratulations to them!
---
*Placemaking is a multi-faceted approach to the planning, design and management of public spaces. Placemaking capitalizes on a local community's assets, inspiration, and potential, with the intention of creating public spaces that promote people's health, happiness, and well being.