CAMP FEST 2017: Brain Dump
September 25, 2017 | Business Journey
By Switchback Creative Team
Here are our notes from CAMP 2017. CAMP is a creative technology, art and design conference at the Theatre Junction Grand in Calgary every year in September. This is the second year we have gone since it started 4 years ago. The space alone at the Theatre Junction Grand is something out of the detective movies. Old moody spaces, brick everywhere and just a vibe about it that makes you want to learn, grow and evolve. The restaurant, Workshop Kitchen and Culture is also there on the main floor and is delicious in it's offerings and service.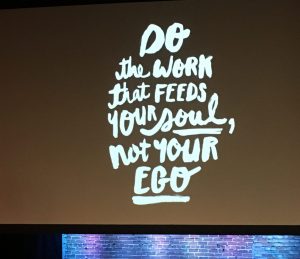 We had the pleasure of hearing some amazing speakers and creators. Some of our favourites were Jessica Walsh @jessicavwalsh, Paul Sahre @paulsahre, Lauren Hom @homsweethom, Jamie Kosoy @jkosoy,  Emily Oberman @emilyoberman and more.
There are so many things we learnt that apply to all business owners following their dreams, this isn't limited to creatives and creators. We are all creators of something that never existed before.
Some of the key takeaways we took with us as a team were…
You need to do the work you love.
You need to feel so strongly about whatever that is that it comes first in your mind. We all need to feed our soul with great work, not the projects that feed our ego. Stay in the part of the work that you love the most, and likely the part that you are the best at. To different businesses 'staying in the work' and staying fresh means something different. How can you do what you are best at and not get swept away in the tide of 'running a business' so much so that you don't love it anymore. Or that the passion diminishes, worst of all.
Don't get promoted out of doing the things that you love.
Don't rush through running a team so fast that you forget it's about the people. Mentorship, clear communication and emotional stability all play into being a great leader.
Don't think only about yourself.
There are so many others that can use your skills, services and products to help make their world a better place in their fight for altruism. How can you set up parameters around your business to ensure you are giving back but in a way that feels right to you. Generosity can come with boundaries and contracts. It can come with conditions and part-bono investments that mean all parties are truly invested in creating something great and seeing it through.
When it comes to relationships everything we do is about connecting with others.
Connecting to sell, connecting to buy, connecting to be loved, connecting to belong. This connection can mean that we immensely respect each other and the work that we are doing. That we need to carve out the time and energy to let each other follow our dreams and that we need to make each other part of the dreams along the way.
Side projects matter.
Having a big chunk of time set aside to work on side projects, stay inspired and sharp means using the tools you have to create something from a simple idea that excites you. Create constraints on projects using the virtues given to explore where the man made boundaries should be set. Translation: SET CONSTRAINTS on your side projects. It makes them more interesting and better in the end. There should be no excuse when it comes to side projects. You do them because you love it and the more fun and play in your work the best the results – Jessica Walsh.
Always be learning… never stop.
Learn through doing on a real live project. If you learnt it in school you can learn it now. If you want to be great at what you do have a mindset of growth and pushing yourself outside of the boundaries that got you there. Be comfortable with failing. Prototype your ideas as early and often as you can. never settle on mediocrity. Never settle at all. Make up your own rules as you go and never stop playing in your work.
All of this mixes together to create the start of a recipe for greatness. Thanks CAMP for the memories and see you next year.